We are so thrilled to announce that we have been selected as one of Houzz Best of 2017 winners. For those who don't know Houzz, we sum it up for you in our post, An Introduction to Houzz. The short answer, Houzz describes its platform as the leader in the homeowner-to-homeowner guide to the top home builders, architects and interior designers as well as many other residential professionals.
Every year, the Houzz community selects professionals to highlight as the best of the best. Three categories are recognized, Design, Customer Service and Photography. This year, we have been selected for Design & Customer Service. Vice President of Industry Marketing at Houzz, Lisa Hausman was quoted, "each of these businesses was singled out for recognition by our community of homeowners and design enthusiasts for helping to turn their home improvement dreams into reality."
Each month more than 40 million users visit Houzz, and we are being recognized as having some of the most popular work being saved and shared. Obviously our clients play a huge role in this award having posted numerous favorable reviews on Houzz, sharing our work, and recommending us. This is a big win for us! The Best of 2017 winners are being announced globally throughout the month. We are beyond excited for 2017!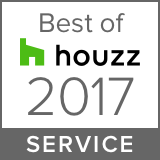 Thank you Houzz community and followers!